National History
Sigma Phi Epsilon's history nationally, and at UNL, is long and proud.
The fraternity was founded at Richmond College, now the University of Richmond, on November 1, 1901, on the Cardinal Principles: Virtue, Diligence, and Brotherly Love. Today, the Fraternity has grown to more than 262,000 lifetime members, including 14,000 current undergraduates on 260 campuses in the United States. SigEp is the largest national fraternity with the best overall G.P.A.


Local History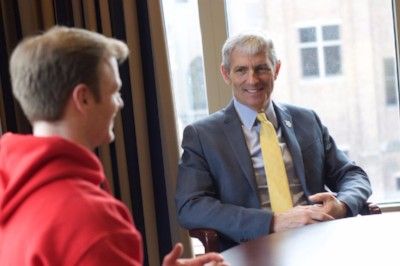 The Sigma Phi Epsilon Chapter at the Unversity of Nebraska Lincoln was founded on April 15th, 1911 and in the past century has initiated over 2,000 brothers. Membership has averaged 120 brothers for the past several decades with approximately 75 living in the house.
The approximately 1,300 living alumni of Nebraska Alpha are a very diverse group of men. They are leaders in business, medicine, government, academia, entertainment and the military. They are also dedicated husbands, fathers, sons and active members of communi-ties across the country. However, diverse these men, they all share a special place in their hearts for SigEp.
This group"s dedication was never more evident than in the last few years when Nebraska Alpha alumni raised $1.5 million to completely renovate the chapter house including new heating, cooling, electrical, plumbing, information technology, fire alarm, sprinkler, and security systems. Consequently, the SigEp house is not only one of the most historic facilities at UNL, but one of the safest, most comfortable and secure.
Cardinal Principles
Virtue, Diligence, and Brotherly Love
Since 1901, these have been, and remain, the cardinal principles of Sigma Phi Epsilon and represent the Fraternity's core values. Pursuit of the Balanced Man Ideal of Sound Mind and Sound Body is the Fraternity's focus. SigEp is uniquely positioned among American college fraternities to build the lives of not only its proud brothers, but also the communities in which they live and work. By helping to build balanced leaders of character and clear values, SigEp will positively impact our world.

Our Philosophy
SigEp is much more than a place to live and a social organization.
Sigma Phi Epsilon exists both for and because of its members. Therefore, brothers are expected to contribute to our collective success as well as benefit from the unique philosophy, programming and experiences SigEp offers. Sigma Phi Epsilon has grown to be the largest, most successful fraternity both at the University of Nebraska - Lincoln and nationally. We seek men who exemplify our three cardinal principals of Virtue, Diligence and Brotherly Love to join us, grow from the experience and work to ensure SigEp"s success continues for generations to come.